Hi! My name is Isak Jeppsson. I'm 12 years old and I love to singing and dancing, simply performing, especially to the King of Pop, Michael Jackson. Some students in my school used to call me Michael Jackson, I always laugh everytime they say that.
I'm a boy who has been intrested in music since 1 year old, who has also been interviewed in swedish newspapers, been applauded on the streets of Copenhagen (cashed in 143 USD) and had a success on many different talent shows.
Since then, I've been better at what I do, but I can be better and bigger with your help! Follow my career on this website or on other social medias!
Have fun searching! <3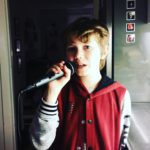 – Isak Jeppsson
Länkar: